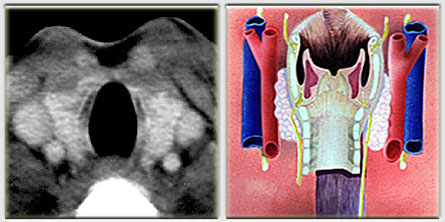 Thyroid
Left innominate vein
The main anatomical landmark anterior to the cervical trachea is the thyroid gland. The isthmus of the thyroid gland clings tightly to the 2nd, 3rd, and 4th tracheal rings and the lateral lobes surround the trachea. The veins draining blood from the thyroid into the left innominate artery are located on the lower edge of the thyroid. In most cases these veins extend outward from the trachea.
The left innominate vein is usually located away from the trachea directly behind the manubrium, but in some cases may be higher so that it crosses the inferior cervical trachea.



Innominate artery
Cervical esophagus
The bifurcation of the innominate artery is in close contact with the trachea at the base of the neck and the right common carotid artery runs obliquely across the anterior aspect of the cervical trachea.
Posteriorly the cervical trachea is in close contact with the anterior aspect of the cervical esophagus. The right recurrent laryngeal nerve meets the trachea at the 6th cartilaginous ring, and runs parallel to it along its posterior edge. The left recurrent laryngeal nerve, which courses under the aortic arch, runs along the posterior aspect of the trachea in front of the esophagus.



Carotid artery
Jugular vein
Laterally in addition to the thyroid lobes, the cervical trachea lies in close proximity to the neurovascular structures of the neck (common carotid artery, internal jugular vein, and vagus nerve). Most of these structures are in direct contact with the trachea only at the base of the neck. In fact, only the common carotid artery is in virtual contact with the external aspect of the trachea, while the internal jugular vein and vagus nerve remain closer to the chest wall.