A number of benign tumors can be treated endoscopically with curative intent. Even in such cases, however, rigid bronchoscopy under general anesthesia is preferable. The absence of extrabronchial spread must be well documented. The endoscopist must be certain of this, because the procedure aims to be curative, and therefore seeks to eradicate the entire tumor. Otherwise, surgery remains the best option. In case the presence of disease spread beyond the airway is noted, endoscopic treatment can only be justified as preparation for definitive surgical resection or as a palliative gesture in case the patient is inoperable.




Tracheal stenosis is an indication for therapeutic endoscopy. Its treatment is complex, often multi-disciplinary, and demands extensive training. Mechanical resection, laser, stenting, medical therapy or surgery are all potential options.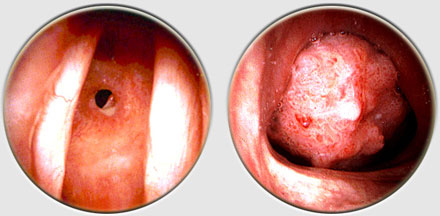 In all cases, procedure scheduling may be urgent or deferred. It is always preferable, if the patient's condition allows it, to proceed with caution. Aside from the occasional tight stenosis or sub-total occlusion of the tracheal lumen, it is unusual to find tracheal stenosis among those cases that must be treated emergently.
Even a few hours delay can be a blessing allowing preparation of the patient for the procedure by obtaining blood work and radiographs. Oxygen therapy, and/or systemic corticosteroids sometimes make a big difference permitting transient improvement in the patient's condition, and facilitating adequate treatment planning.