The first metallic stents to be deployed in the airway were similar to those used by cardiologists to treat vascular stenoses. Airway specific stents such as the Gianturco®, Wallstent®, and Ultraflex® followed. In our view, these stents owe their success to a presumed ease of deployment (they do not require rigid bronchoscopy), yet are riddled with complications. Granulomatous inflammation, airway perforation, and hemorrhage are known complications. Furthermore, these stents cannot be removed from the airway once they are deployed. Some designs have incorporated a partial covering of tissue or silicone, yet remain plagued by the same complications. Needless to say, we are opposed to the use of these stents in the airway.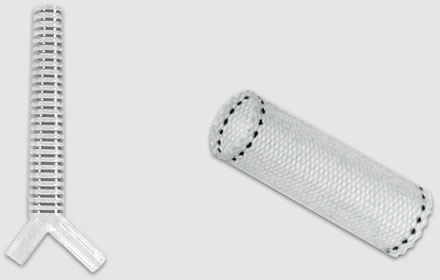 Silicone coated stents are also available, either reinforced by a metallic (dynamic stent de Freitag®) or synthetic (Polyflex®) frame.
We believe these frames are not helpful, because they reduce flexibility which is essential to good stent tolerance.
In addition, these stents are less cost-effective.



The patient shown here is a 45 year old woman who presented in respiratory distress.
A metallic stent is seen completely destroyed and causing severe tracheal obstruction. Exuberant granulomatous inflammation is also seen.
In this case, we were able to remove the fragments of the metallic stent not without great difficulty, and place a silicone Y stent instead.