Endobronchial metastasis of a renal carcinoma.
This type of tumor has a reputation for being hemorrhagic and may present on occasion as hemoptysis. YAP laser resection begins with a thorough photocoagulation followed by vaporization. The latter is achieved by approaching the laser fiber to the target and thereby augmenting power. In the case shown here, treatment was straightforward.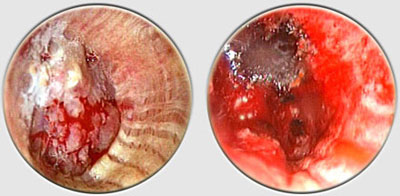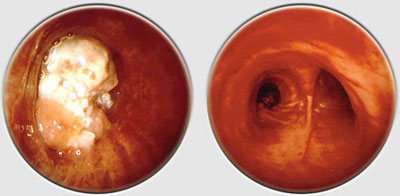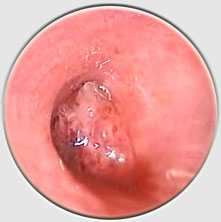 The second case is similar, demonstrating resection of endobronchial metastasis caused by a tumor of the digestive tract.
This hemorrhagic tumor of the left main stem invades the mediastinum. Resection begins by coagulation of the tumor mass, followed by mechanical debridement with the beveled tip of the bronchoscope.
Once resection is complete, the base of the tumor is thoroughly coagulated in order to achieve adequate hemostasis.