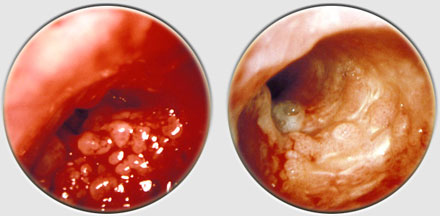 These are benign tumors which are not exempt of serious morbidity in case of extensive disease.
They tend to recur often prompting repeated resection.
The case shown here is a papilloma of the left main stem bronchus. Persistent disease is seen following treatment.
Thorough caogulation at low power using a YAG, YAP, or infrared laser is not always enough.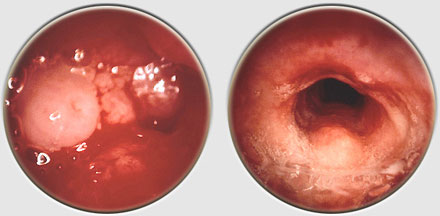 This tracheal papilloma has caused complete tracheal obstruction in a 6 year old child. This child has undergone tracheostomy and multiple laser treatments. Relapse was inevitable until a Montgomery T tube was placed.
The stent was removed a year later, and to our surprise, the papilloma had disappeared. Because these tumors are notoriously oxygen dependent, we believe this unexpected outcome can be attributed to tumor asphyxia caused by the stent. Smaller lesions amenable to laser resection were treated, and the patient has remained disease-free at age 15.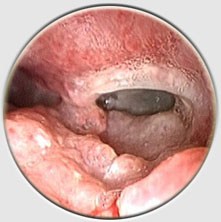 This patient suffers from papillomatosis involving the trachea, carina and both main stem bronchi.
The right main stem is severely obstructed. A false anterior mediastinal tract is seen at the time of bronchoscopy.
Careful resection of the endobronchial lesions allows adequate ventilation of the right main stem.
A silicone stent is deployed sacrificing the right upper lobe. Subsequently, a Y stent is placed to address the carinal disease.
We prefer this method, rather than a Y stent with a longer right main stem limb, in order to avoid deploying the stent along the mediastinal tract.