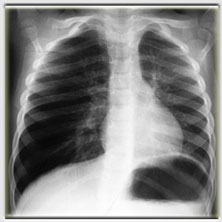 Extraction of an aspirated foreign body is simple with the rigid bronchoscope, and much more difficult with the fiberoptic bronchoscope.
We often see patients who have been referred to us for extraction following multiple unsuccessful attempts with the flexible instrument.
The rigid bronchoscope usually solves the problem in a matter of minutes.
The latter is essential in the infant.




In adults, aspirated teeth or dental prostheses are routinely encountered.
Once identified, the foreign body is easily extracted with a specially designed foreign body forceps.

Recovery is much more complicated if the foreign body is a hairpin.
In such cases, we tend to use the fiberoptic scope through the rigid tube in order to clear the vocal cords without damaging them.
When using the fiberoptic scope, the patient should lie with the unaffected side down.
This positioning will preclude migration of the foreign body toward the peripheral airways and facilitate extraction.




Impaled foreign bodies are difficult to extract.
Sometimes the laser becomes necessary in order to section the foreign body or detach it from the airway.
The case shown here documents the extraction of an impaled rabbit bone.


Finally, we show here a case of aspirated porcelain lodged at the main carina as well as a case of aspiration of multiple pebbles during a near-drowning episode.





Needless to say, the second case posed a number of challenges to endoscopic extraction due to the smoothness of the pebbles and their peripheral location. Adequate positioning of the patient was essential in this case, in order to facilitate aspiration of the pebbles with the help of gravity.